Diwali is not only a beautiful festival full of lights, love, laughter, and positivity; it is also an emotion. It is that time of the year that brings people closer, wherein colleagues become friends, and friends become family.
Diwali, one of India's most important festivals, calls for a grand celebration at home and in the workspace. As a result, we can also think of it as a buffet of sweets, sparkling lights everywhere, and a simple mood of excitement and enthusiasm that encourages every employee to take part in the Diwali celebrations and creative activities. Starting from Dhanteras being the first day, Choti Diwali is the second, Diwali the third, Govardhan Puja the fourth, and Bhai Dooj being the fifth and the ultimate one.
Festival celebrations in the workplace have emerged as one of the most significant employee engagement initiatives. At Abbie IT Mart, we're not just colleagues, but also a family, and a family that celebrates all the joyous moments together. Because, as we all know, this is the most festive season of the year, and everyone should enjoy it. Hence, we had a glorious pre-Diwali celebration at our Abbie IT nest and made sure that no one missed out.
Diwali gala: Maintaining our traditions indefinitely
Diwali is a 5-day festival wherein we worship Goddess Lakshmi and Lord Kuber to bless us with health, wealth, prosperity, and abundance. It relates to harvest and new year celebrations and represents new beginnings as well as the triumph of good over evil and light over darkness: the Festival of Lights.
How about looking traditional with an ethnic twist at this big Indian festival? At the Diwali festival, ethnic wear can be something that represents the authenticity of your native culture, or it can be any rural dress that fits your personality and the environment at work. Make an effort and try on the newest outfit to rock the office floor.
We began the festivities by welcoming Goddess Lakshmi and Lord Ganesha into the office, wishing that this festival of lights would provide us with the opportunity to set new goals, overcome the evils of work life, and foster new friendships.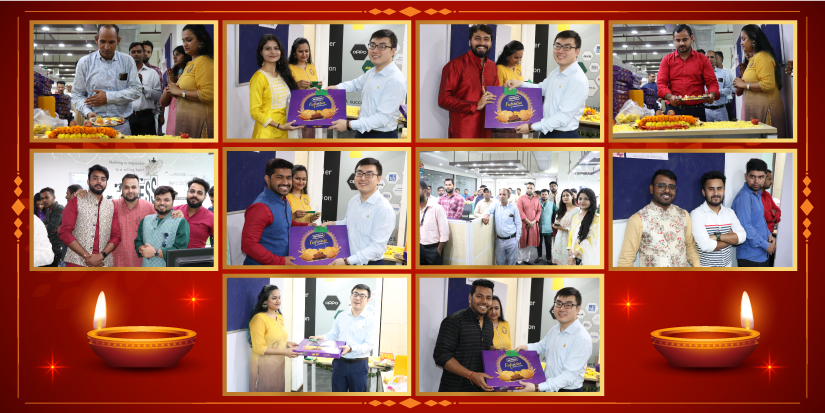 Lord Shiva and Goddess Parvati, impressed by his love for his parents and intelligence in winning the race, bestowed upon him the fruit of knowledge and immortality. This is why, before starting anything new, we seek the ineffably charming Lord Ganesha's blessing. We did Lakshmi Poojan, praying to the goddess for her blessing upon us and keeping our lives prosperous and joyful.
That sweet tooth we all crave:
What's a festival without a laddoo? We made sure that our appetites were satisfied with our gluttony. We exchanged chocolates, sweets, and laddoos, symbolizing new friendships.
Because we all love goodies! Don't we?
And we totally agree on one thing: gifts are the best part of the Diwali festival. And it is even better when it is received from your boss. Ain't that amazing? Making coworkers, colleagues, and managers happy and content by giving away gifts on this auspicious occasion created a revelry memory for everybody.
Greetings from the Abbie IT Mart family.
May happiness and prosperity fill your life forever in the light of beautiful diyas and holy chants! Abbie IT wishes you and your family a prosperous and joyous Diwali!