Ditching a usual monotonous Thursday, our team was all set to sweat it out on the playing field. A long day event with interactive, fun, and engaging games has rejuvenated our whole team. We took a stroll down memory lane to those carefree years of hot summer days spent on the school field for sports days. The happiness and thrill increase to a different level when you play some challenging games with your co-worker at your workplace. Bringing out the inner child is the sole motive of Abbie IT Mart. 
All Work & No Play Makes Jack a Dull Boy
Well! Surely, we don't want our employees to be dull like Jack. On a surprisingly warm Thursday 30th of April 2022, Abbie IT Mart had an exciting and challenging sports fiesta. 
Office sports events are an excellent way to challenge your colleagues while taking the lead on your favorite sports. When it comes to sports events, participation matters the most, we are happy to see each employee have participated and done their best to win. We wore the same jersey which shows the unity of our team. 
Excited to know which games we played?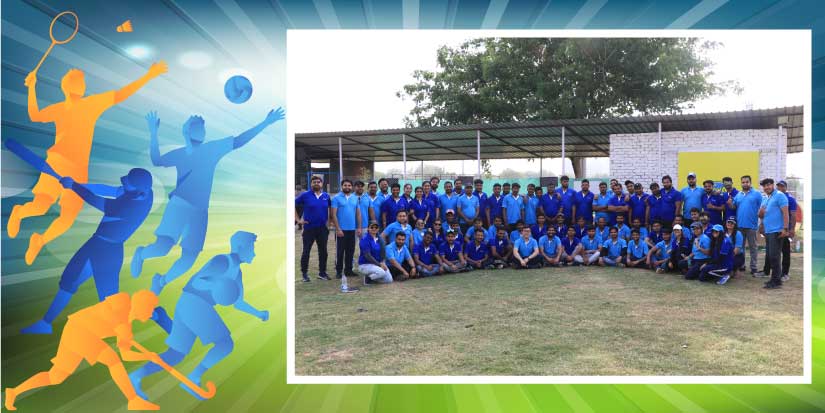 Our Heart Beats For Cricket
Who doesn't love cricket? We Indians are obsessed with cricket right? No matter whether it's IPL or World Cup, the love for cricket can't be ignored. 
At Abbie IT Mart, our colleagues enjoyed the match with lots of enthusiasm and excitement. We divided our employees into teams like Naagshakti (Slytherin), Dominators, Avengers, and BB King eleven, it was such a pleasure to see our employees positively competing against each other. 
Cricket enhances social skills such as cooperation, communication, and the opportunity to learn more about colleagues outside the office. It is also an amazing way to meet new people and make some new friends. 
Catch Spirit With Football
Football is the epitome of team building, with 22 players competing under a strict time restriction is enough to give an adrenaline rush. Football is a perfect sport to learn a lot about teamwork and unselfishness. 
Teams like Cheetah Colonels, Hustlers, Homecoming, and Big Blues played a very challenging yet competitive match. It doesn't matter who the winner is, participation is a must. It is the best way to enhance the sports spirit during the match. 
Let's Pull It Hard In Tug Of War
Tug of War is an excellent sport to learn communication and respect for each other. It is a game to prove coordination and synchronizing movement. The game allows players to hide the physical weakness of one team, combining everyone's strengths in favor of the team. 
Besides all, the best thing about Tug of war is that it brings the ultimate smile not only to the player but also spectators
Get Smashed In Badminton
Nothing is more fun than sweating in a happy heart. The players of badminton know it well. When in court, you and your partner must be on the same page. During a badminton match, our players were having fun together and showed no signs of weakness. Our players like Horcrux and Fighting Falcons were all set to tackle any challenges on the court. 
Abbie IT Mart Focuses On Creating Positive Reinforcement
Boosting employee morale, building a better bond amongst the employees, enhancing sportsman spirit, what's more, we can ask for?
As we close this event, we're thrilled to know our employees outside the office. We want to thank each employee who participated in the game and made the sports day event a huge success. It couldn't be possible without your continued support and dedication. We ensure to give you these thrilling adventures in the future.